Grupo ALCABA El Cuarteto de Venezuela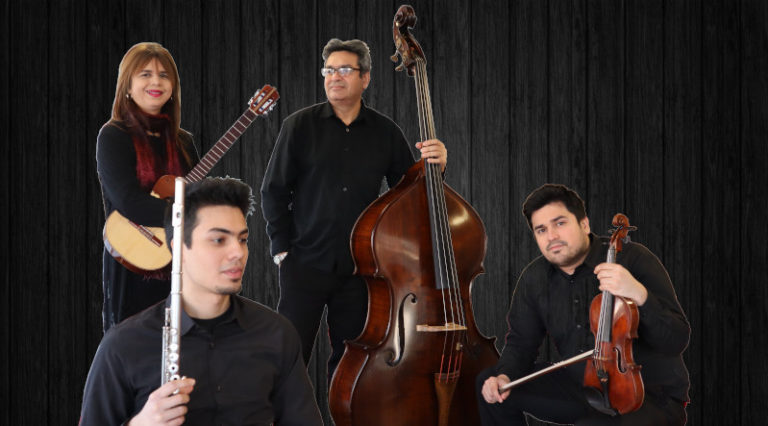 With a clear conviction aimed at the rescue and exaltation of our National musical identity and taking into consideration the great diversity of composers, genres and musical rhythms that exist not only in our geographic region, but also in Latin America and some of which are not well known or showcased; the need to create a musical group that would contribute to the rescue and diffusion of these musical expressions at the highest possible artistic level arises, and in 2007, the group was formed with four professionals in the popular and academic Latin American music field.

One of the most important and interesting characteristics of this group-apart from its extraordinary musical, instrumental and vocal interpretive ability- is that it is comprised of four members of the same family. Alejandro Carrillo R. along with his wife Romelia Barrios de Carrillo and their sons Alejandro Carrillo B. and Jesús Carrillo  joined forces with the violin, flute, mandolin, guitar, maracas, double bass, Venezuelan cuatro, and their voices to créate the "GRUPO ALCABA, El Cuarteto de Venezuela."

The name ALCABA is the result of the combination of "AL" from the name ALejandro since three of the members bear this name, CA from Carrillo, and BA from Barrios being that those are the family's last names.
It is important to highlight that the "GRUPO ALCABA" is a great example of how familial values and union can be focused toward the study, development, and execution of music, as well as the rescue, promotion and dissemination of our artistic Venezuelan and Latin American musical values. There are few musical groups with similar characteristics.
With great acceptance, the "GRUPO ALCABA El Cuarteto de Venezuela" has performed numerous concerts in various states in the National region as well as in numerous International venues (Germany, France, England, Spain, Holland). The group stands out not only because of the quality of its instrumental execution and vocal interpretation, but also because of the originality of its arrangements at high artistic level, becoming the subject of highly recognized critics of knowledgeable musicians, both locally and internationally.
The Grupo Alcaba has released two CDs which showcase works by various composers. A third CD is currently being replicated, and the fourth CD is currently being recorded. The group's members have an established significant track record in the Venezuelan and Universal musical fields.
The primary goal of the "GRUPO ALCABA" is to promote and showcase Venezuelan and Latin American popular music in its different genres and rhythms internationally. The group also aimsto rescue the vast production of our excellent composers while encouraging the instilling ofvalues into society. Through our concerts, we aim to demonstrate that family integration can be geared to the rescue of identity and universal  usical expressions.
ALEJANDRO CARRILLO B: Group's Violinist who was musically formed in the National System of Orchestras of Venezuela and the Mozarteum Center Caracas. He studied at the Hanns Eisler University of Music in Berlin and at the University of Music and Theater in Rostock. In his already extensive artistic life, he has performed solo concerts with Orchestras such as the "National Philharmonic of Venezuela" and the "Mitteldeutsche Kammerphilharmonie" in various venues in Venezuela, Mexico and Germany. He has participated in important international festivals such as the "Mecklenburg-Vorpommern" and the "Rheingau" Festival as well as in numerous record productions. In addition to being a founding member of the "Grupo Alcaba el Cuarteto de Venezuela," he is also a violinist for the "Bolivar Soloists" and "Duo Resonado." In the orchestral scene, Alejandro is currently Concertino of the "Mitteldeutsche Kammerphilharmonie" Schönebeck in Germany.
ROMELIA BARRIOS DE CARRILLO: Group's Cuatro Venezolano and Mandolina player who trained at the Esteban Rasquin Trujillo School Music and the Simón Bolívar Music Conservatory in Caracas, Venezuela. She holds a Master's and Doctorate degree in Education. She has worked as a violinist for the Edo Trujillo Symphony Orchestra and the Polimnia Group and has also participated in many recordings. She is currently a Professor in the Violin and Orchestra areas of the Metropolitan School of Panama.
JESUS ​​CARRILLO; group´s Flutist who was musically formed in the National System of Orchestras of Venezuela and the "Simón Bolívar" Conservatory Caracas. He studied at the University of Music in Lübeck and later a master's degree at the University of Music "Carl Maria von Weber" Dresden, Germany. He has been invited to perform concerts with orchestras such as the "Mitteldeutsche Kammerphilharmonie Schönebeck" and the "Neues Kammerorchester Potsdam". He is currently pursuing a master's degree in "Dresde music University" in cooperation with the "Mozarteum Music University" of Salzburg. In the same way, he performs pedagogical activities as a Flute teacher and Wind Workshop in different music schools in Dresden and actively participates in the development of the "Musaik Grenzenlos musizieren in Dresde" Music project, which is inspired in the Venezuelan orchestras system.
ALEJANDRO CARRILLO ROSARIO: Group's double bass player, arranger, and conductor. A Musician composer and arranger of numerous projects and musical groups, he has made several recordings for himself and other artists and has shared the stage with prestigious Venezuelan and Latin American artists and groups. He has been honored with the Ciudad de Trujillo Order in its third and second class along with various awards for his contribution to Venezuelan musical art. He currently works as a producer, music advisor, and music teacher at the Metropolitan School of Panama.